Above All, Women:
Four Images of Gustav Klimt for string quartet (2016)
Duration: 20 minutes
Commissioned by the University of Texas at Dallas
Premiere Performance: February 11, 2017; Amernet Quartet at UT Dallas
Composer's Note:
Above All, Women: Four Images of Gustav Klimt for String Quartet (2016) is the result of a commission from the University of Texas at Dallas School of Arts & Humanities, Dr. Dennis Kratz, dean. The Amernet Quartet gave the premiere performance at UT Dallas on February 11, 2017.

The four movements of the 20-minute quartet are based on four paintings of women by the Austrian painter Gustav Klimt (1862-1918). The title, Above All, Women, comes from a postcard from Klimt to his long-time lover and model, Emily Flöge. Flöge had asked him whether he liked to use his own likeness as subject matter for his paintings. Klimt replied, "I am only interested in painting other people -- above all, women."

My first string quartet, Meta 4 (1994) was premiered as music for a ballet, and it is my hope that this new Klimt quartet will be danced, as well. I drew inspiration from the opulent atmosphere of works by two of Klimt's contemporaries: the String Quartet Op. 10 of Claude Debussy (1862-1918) and Verklärte Nacht, Op. 4 by Arnold Schönberg (1874-1951). Elements of these two contrasting styles are brought forward to the 21st century, as tonal melodies and harmonies plus Lydian and octatonic scales in regular meters are interwoven with freely atonal and rhythmically disjunct passages. The elaborate detail of Klimt's backgrounds, often in shimmering gold, is reflected in the music by rich, contrapuntal accompaniment patterns and intricate passage work.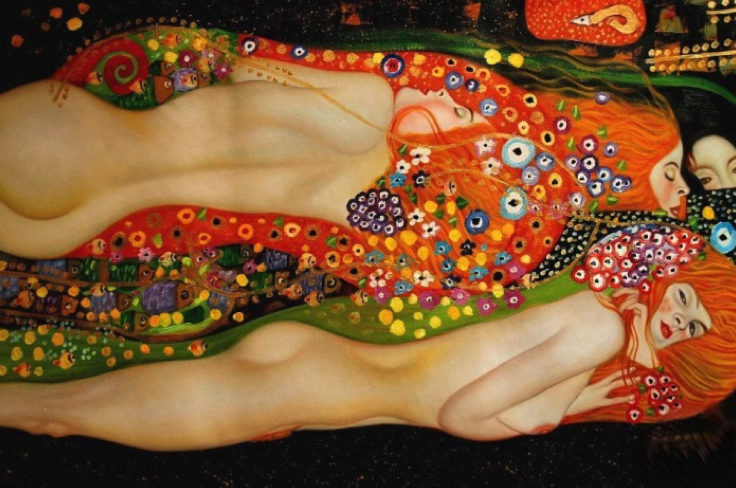 "Sea Nymphs" is based on a painting ("Sea Serpents II") of four nude women with long hair caressing each other underwater. They are wrapped in red seaweed that glows like stars around them. In the music, pairs of instruments intertwine over a rippling accompaniment that suggests the women's flowing movements. The two pairs often merge as the four instruments cling together at climactic points, then individual lines playfully dart away to form other combinations.
"The Kiss" is one of Klimt's best-known paintings. It depicts a man and a woman in a passionate embrace. The model for the woman was Emily Flöge. The man wears a flamboyant golden robe, and he wraps it around the woman, who is kneeling before him. The music begins with gentle nuzzling between the two violins. There is a steady increase in tempo as the motion doubles, then doubles again to show the growing intensity of the kiss. The music rises and falls, then builds to a passionate climax. The activity gradually subsides, and there is a quiet reprise of the tender opening.
For "Judith," the model, again, was Emily Flöge. Klimt's title refers to the Apocryphal story of Judith, a beautiful Israelite widow who defends her country by seducing Holofernes, a Philistine general, and cutting off his head. The painting shows a richly-dressed woman with her breasts revealed against an ornate gold background. She wears a hairstyle of Klimt's time, and she strokes a man's severed head which is barely visible at the side of the painting. Her face is flushed, and she has an expression of lascivious satisfaction.

The music begins with an agitated pizzicato passage that depicts Judith furtively making her way into Holofernes' camp. When she enters Holofernes' tent, a cello outburst expresses the general's outrage, which turns to delight as he is taken with Judith's beauty. She dances for him and gets him drunk. They have an intense sexual encounter, followed by a period of contented relaxation. Judith waits until Holofernes falls asleep; then she cuts off his head and, carrying the head, makes her escape.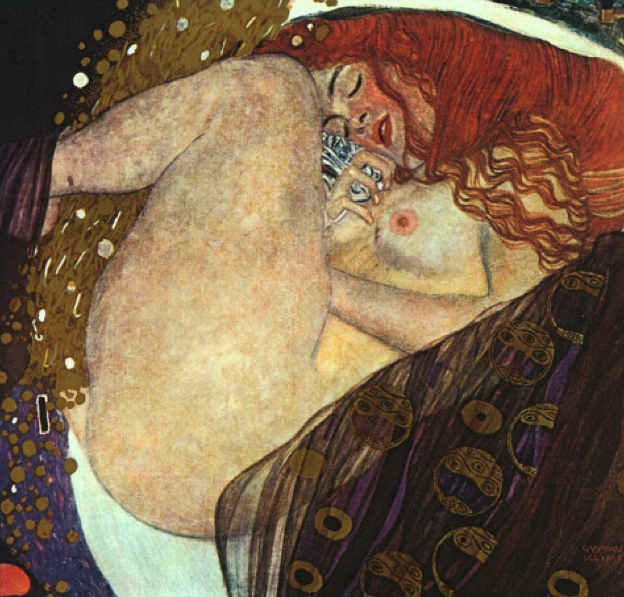 The final painting, "Danae," is based on a story from Greek mythology. The Oracle of Delphi tells King Acrisius that the son of his daughter, Danae, will one day kill him. Since Danae is childless, Acrisius locks her in a brass tower to protect her from suitors. Zeus, however, desires her and streams into her chamber in the form of a sheet of golden rain. Later a son, Perseus, is born, and Perseus fulfills the prophecy by killing Acrisius. Klimt's painting depicts a voluptuous and contented Danae lying naked in her bed, enveloped by a richly-detailed gold curtain. A dark rectangle represents Zeus himself at a strategic point in the curtain.

In the quartet, the glitter of the golden rain is represented by frequent glissandi on the overtone series of all five pitches of the open strings of the instruments: E, G, A, C and saving D (for Danae) for the end. The movement opens with a shimmering aura in the upper strings, with the cello representing Zeus caressing the sleeping princess as the music builds to a climax, pauses for a moment of reflection and then rises again in a radiant coda.