Bolero for Orchestra
Duration: 8 minutes
3(pic)3(ca)3(Ebcl)2/4331/timp.3perc/hp.pf/str/handbell choir ad lib. (12 players)
Commissioned by The Knoxville Symphony
Premiere Performance: May, 1989; Knoxville Symphony;
Kirk Trevor, Conductor
Reviews:
…extraordinarily dramatic…a tour de force of alternating subtlety and passion.
Teo Furtado, Knoxville News-Sentinel
Optimistic and triumphant, it was at times thick and densely layered, and at other moments as thin and delicate as early morning fog… There are moments of carefully controlled turbulence that add to the mystery and majesty of the piece as it builds to is conclusion not unlike Ravel's famous "Bolero."
Harold Duckett, The Knoxville Journal
"…displays a mastery of color, inventive harmony and theatrical gesture. The sonic surface was a swilling iridescence…it was over too soon."
Mike Greenberg, San Antonio Express-News
"…both substantive and brilliantly orchestrated. Into a rustle and shimmer, as of two wings, a haunting medieval melody insinuated itself. Two other such melodies were woven in, and around them rose up great welters of rustling, ringing sound… complex cross-rhythms and taut harmonic clashes…this was emphatically hearer-friendly music with no need to prove any avant-garde credentials."
Scott Cantrell, Kansas City Star
Matthias Grünewald, Concert of Angels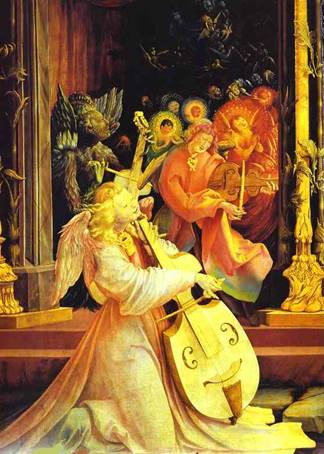 Program Note:
Celebratory in character, A Gathering of Angels is based on a passage from Book III of John Milton's Paradise Lost:
The Multitude of Angels, with a shout
Loud as from numbers without number, sweet
As from blest voices, uttering joy, Heaven rung
With jubilee, and loud hosannas filled the eternal regions.
Scored for large orchestra with handbell choir, Rodríguez' bolero superimposes the characteristic Spanish dance rhythm over melodies in three contrasting meters representing the various orders of angels. At the opening, percussion and strings, bouncing their bows, suggest the distant beating of angels' wings. As the angels approach, high woodwinds lead the orchestra in a mighty downward crescendo. A pianissimo interruption announces the first of three Thirteenth-Century cantigas – or songs of praise to the Virgin Mary from the collection of King Alfonso X, "The Wise," of Castile – which are quoted and intertwined in typically Medieval layers of increasing structural complexity, as the short work builds to its conclusion.