Duration: 14 minutes
Clarinet in A, Violin, Cello and Piano
Published score for sale
Commissioned by The Aeolian Chamber Players
Premiere Performance: May, 1989; Merkin Hall, NY
Recording: Voces Americanas, CRI CD-824 – 1999 Grammy Nomination
Reviews:
...What gives the piece its spark is the two tunes. They're sharply different, and it's intriguing to hear how Rodríguez juxtaposes and manipulates them over the course of 14 minutes. The Rodríguez melody is dark and sober; the Rameau light and jaunty... The piece is in theme-and-variation form, but there's no telling what tune Rodríguez is going to pick up an play with next.
Roxanne Orgill,
Musical America
... may be the most erotic music ever composed... The cello sings a gorgeous, bedroom-eyes melody, languorous but insistent. Piano, clarinet and violin introduce charming music quoted from Rameau. These two ideas interact in wonderfully complex ways throughout the piece, which closes with music of yielding tenderness.
Mike Greenberg,
San Antonio Express-News
…a brilliant solution to the problem of what to do about the dichotomy between modernist, often serialist, musical techniques and traditional tonality. It not only reconciles these styles but depends for its form on demonstrating the difference and overcoming it…The two themes undergo a process in which they become like each other in important ways, and, in texture, begin to intertwine instead of conflict. In short, they behave as though they are falling in love. They seduce each other: The Rameau theme takes on some of the chromaticism of the modern theme, while the Rodriguez theme becomes more innocent by having its harmonic basis turn from more complex chords to triads. In order to make the process convincing, Rodriguez allows his variations to merge into each other, without pauses.
Joseph Stevenson, All Music Guide
…an effective, evocative work which should be heard often and become well-known…Of how many late twentieth-century works can it be said that it contains haunting melodies which stay in the memory long after the performance? Such is the case with this wonderfully rich, imaginative score. It has a unique voice…
Larry Guy, The Clarinet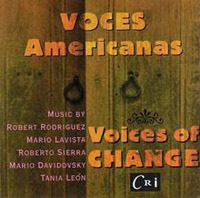 Program Note:
Les Niais Amoureux (1989) is a set of double variations for violin, clarinet, cello and piano. The two themes are: Les Niais de Sologne (The Simple Souls of Sologne), sprightly keyboard variations by Jean-Philippe Rameau (1683-1764), and a fragment from Rodríguez' 1978 first opera, Le Diable Amoureux – hence the composite title, Les Niais Amoureux ("Innocents in Love").
The quartet begins with a seductive cello melody from a scene in Le Diable Amoureux in which a Medieval baron, under the influence of the Devil's spell, makes amorous advances to his son's fiancée. The contour of this rising theme, with its simple hypnotic accompaniment of a trill and a repeated broken chord, figure prominently in the variations to come. The sprightly Rameau, which interrupts is similarly replete with trills. The ensuing variations draw from the frequent two-against-three accompaniment patterns and regular sectional divisions of the Rameau, each marked by a pronounced change of texture in the Baroque manner.
The two melodies collide at first, but gradually the colorful music of the Devil's spell serves to initiate (or "deniaiser") the Rameau into a richer, chromatic vocabulary. The two styles merge as, states the composer, "innocence is enlightened by experience and experience is purified by innocence."