Concert Overture for Orchestra
Duration: 6 minutes
2+pic.22.asx.2/4331/timp.3perc/hp.pf/str
May be performed with Hot Buttered Rumba and Tango di Tango
in a three-movement Latin dance suite under the title Trilógica
Published full score for sale
Watch Video
Commissioned jointly by the Dallas and El Paso Symphony Orchestras
Premiere Performance: March 22, 1991; El Paso Symphony Orchestra;
RXR, Conductor
A short, festive crowd-pleaser, Piñata, Concert Overture for Orchestra (1991), blends Mexican folk music, samba rhythms, contemporary symphonic techniques and American jazz. The score includes quotations of two actual Mexican piñata songs, Hora y fuego and En las noches de posadas, which are traditionally sung at fiestas, such as birthdays or at Christmas time.After a bustling introduction, the music graphically depicts the swaying piñata, a brightly decorated clay pot filled with candy suspended on a string (in this case, two solo violins). As the excitement builds, there is a series of mighty orchestral whacks at the piñata, which eventually breaks open in a triumphant coda. The work may be presented in concert form or as a ballet. Jointly commissioned by the El Paso Symphony and the Dallas Symphony, Piñata is regularly performed on subscription, youth and family concerts across the United States.
Review: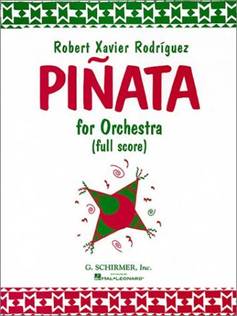 "... the blockbuster of the concert, a kaleidoscope of color, rhythms, textures and dynamics, it elaborated on the hi-jinks of breaking a piñata. There (were)hints of Leonard Bernstein's jazzy show tunes, Latin Syncopation, massed brass, a riot of percussion with marimba, xylophone, blocks, bells, drums and a delicious violin duet in the strings that held the piñata. It left us wanting more."
Betty Ligon, El Paso Herald Post
Piñata may be performed along with Rodríguez' Hot Buttered Rumba and Tango de Tango in a three-movement Latin dance suite under the title Trilógica.