Romance with a Double Bass
for Narrator, Double Bass & Piano (2018)
based on the short story by Anton Chekhov
Duration: 15 minutes
Commissioned by Gary Karr
Premiere Performance: February 8, 2019
Gary Karr, Contrabass; Harmon Lewis, Piano
The University of Texas at Dallas

Romance with a Double Bass, Taganrog, Russia

Composer's Note: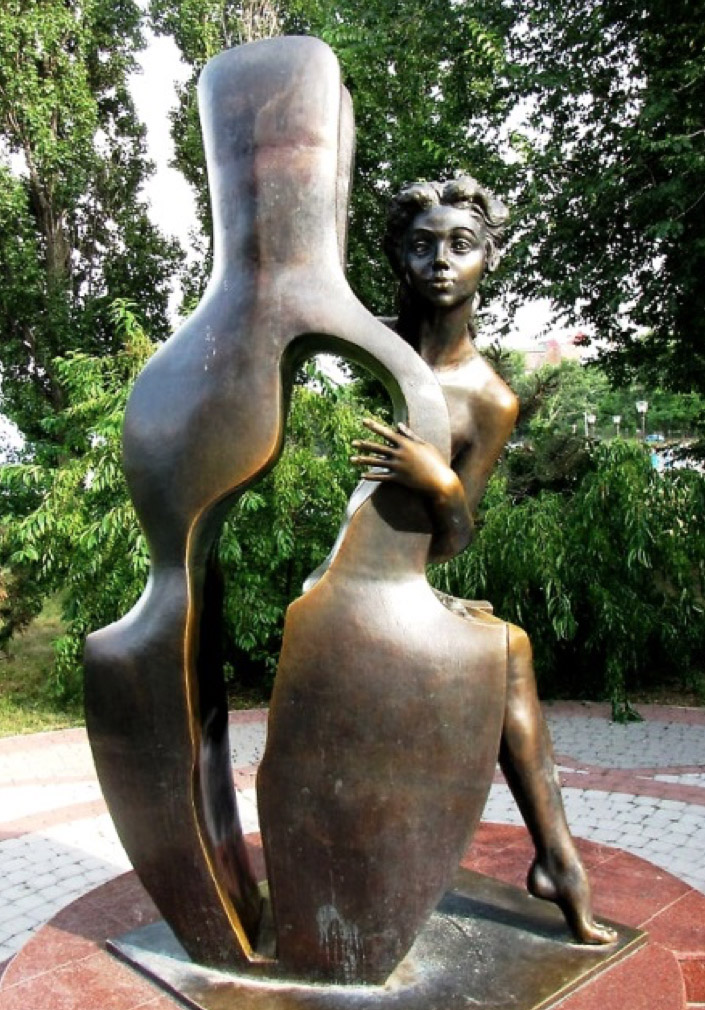 Romance With a Double Bass (2018) for Narrator, Contrabass and Piano is the result of a commission from my friend and colleague Gary Karr. Karr and I had collaborated earlier with Ursa: Four Seasons for Contrabass and Orchestra (1990), commissioned by the National Endowment for the Arts, which he premiered with the San Antonio Symphony. Karr and Harmon Lewis, pianist, gave the premiere performance of this new work during the 2018-19 concert season at the University of Texas at Dallas.
The Romance is based on a comic short story by Russian playwright Anton Chekhov (1860-1904). Smichkov, a double bass player, is on his way to play at the wedding of a princess. He stops for a swim in a lake and sees a beautiful girl napping and holding a fishing line on the shore. Admiringly, he ties a bouquet to her line and swims away. When she awakens, she finds the bouquet and, likewise, goes for a swim. While Smichkov and the girl are swimming, separately, thieves steal their clothes. Both naked, Smichkov and the girl meet at a bridge, and the girl reveals that she is the princess. Smichkov puts the princess inside his double bass case to carry her to safety, but he drops the case when he suddenly runs after shadows he thinks are the thieves. While Smichkov is away, some of Smichkov's fellow musicians come by and see the case. Thinking it contains Smichkov's double bass, they take it with them to the palace. At the palace, the entire wedding party opens the case and discovers the naked princess inside. Smichkov, still naked and now alone at the bridge, mourns for the princess, and, to this day, he is heard playing his double bass in hopes of finding her.
In keeping with the Russian setting, the score specifies that the narrator speak with a "lovable Russian accent." The words must be timed exactly to the music, spoken sometimes during pauses in the music and sometimes while the music is playing. The musical setting is both playful and tender, with free atonality merging with diatonic sweetness. The writing for the contrabass is virtuosic, notated for scordatura solo tuning (a step higher than usual) with extended use of harmonics, double stops, slides and high registers. Following the model of Peter and the Wolf, by Chekhov's compatriot Serge Prokofiev, there are leitmotifs which recur with variations throughout the work to depict the characters and events.