Opera in Two Acts
Book by Hilary Blecher; Lyrics and Monologues by Migdalia Cruz
Duration: Full Evening
Cast: Mz, Bar, S, A, T, B,
3 Calaveras (death figures - character voices), SATB chorus ad lib.
cl/(asx)/tpt (flugel).tbn/perc/acn.gtr.pf/vn.va.vc.db or cl(asx)/tpt(flugel)/perc/can.pf/vn
Spanish translation by Josefina García available
Piano reduction available of full opera and Concert Suite from Frida
(Mz + above instrumentation)
Commissioned by the American Music Theater Festival (now Prince Theater)
Recording of Concert Suite from Frida: CRI CD 824,
Angelina Réaux, Voices of Change
Reviews of American Productions:
Helen Schneider as Frida
Photo: Erich Schleyer
Vienna Schauspielhaus
The Best Opera/Musical Theater of 1991 ...a fascinating, magically engrossing evening ...The music is subtle and atmospheric ...genuinely original and genuinely accessible, a neat combination not that often achieved.
John Rockwell, New York Times
...an exciting, long overdue musical biography ...raw, wonderfully dangerous theater.
USA Today
...high drama ...conveys the radiance and explosive fury of the woman whose art was, in the words of André Breton, "a ribbon around a bomb."
Time Magazine
'FRIDA': A fierce portrait of Kahlo...intense and impassioned ...a bio drama/performance piece/puppet show/monologue carried off as an operatic danse macabre ...relentless ...searing ...harrowing ... richly imaginative ...Frida's remarkable.
Kevin Kelley, The Boston Globe
...thrilling score by Robert Xavier Rodríguez ...
Jeremy Kingston, The London Times
Rodríguez opera Frida a triumphant experience
Mexican painter Frida Kahlo created some of the most disturbing, soul-baring images of our century ...brilliantly translated to the stage ...Music theater's power to plumb a complex character, tell a great story and evoke a time and place has triumphed in Houston Grand Opera's production of Frida ...The story is told swiftly and efficiently, often with deft humor, always with a clear focus on the inner life of the title character ...Frida is at once fragile and strong, high-minded and sensual, deeply serious and devastatingly funny. Nearly alone among operatic heroines, Frida is granted a complete personality, including a fully nuanced and frank sexuality. Rodríguez's music helps mightily to create a character that we care about and whose pain we must share. Just as Rodríguez's earlier operas appropriated European Renaissance and medieval styles or quotations into his own modernist and coloristic tapestry, his score for Frida draws heavily on the folk and popular-romantic idioms of Mexico ...magnificently effective ...gorgeous ...sumptuous ...beautifully constructed ...powerful ...wistful, sensuously serpentine ...and he finds plenty of outlets for his pungent wit ...great musical theater.
Mike Greenberg, San Antonio Express-News
Reviews from the 2015 Michigan Opera Theatre Production, Starring Catalina Cuervo:

Left: Image from Michigan Opera Theatre Prodiction of Frida
Right: Catalina Cuervo as Frida

Fiery 'Frida' offers intensity and immediacy
Frida offers the opportunity to hear a well-regarded contemporary work known for its eclectic style. It marries the emotional weight and complexity associated with classical music with the immediacy and clarity of vernacular art. Rodriguez's score, which includes spoken dialogue, explores an aesthetic halfway between the opera house and the Broadway stage…morphs quickly from astringent classical modernism to syncopated ragtime and jazz and the sunburned colors and south-of-the-border rhythms of mariachi music …offered the kind of dramatic intensity and immediacy that's too often missing in performances of standard repertory works…compelling… strong memories linger.
Mark Stryker, Detroit Free Press
Triumphant 'Frida'
Frida is an emotional explosion of music and color and truth that surely the artist herself would have enjoyed… We are hard-pressed to catalog the many ways Frida satisfies and surprises. At the most basic level, Kahlo's personal story is fascinating, and there is a certain voyeuristic appeal to seeing her life played out through the dynamic amplification of modern opera. Perhaps the highest praise we can offer is that Frida faithfully represents the passion, pain, energy, defiance, vibrancy, and restless intensity that Frida Kahlo poured into her paintings. These defining emotions are reflected in the soaring music, hypnotic and eerie dancing, authentically surreal production design, and sparkling singing and acting from the ensemble…Do what you must to see this inspiring opera.
Patty Nolan, Detroit Examiner

MOT's 'Frida' emotional and dynamic
…Rodriguez's score teeters between opera and musical theater, and that's perfectly fine. So does Stephen Sondheim's Sweeney Todd and Kurt Weill's Rise and Fall of the City of Mahagonny and Street Scene, and they're all great works. Rodriguez also includes some lively Mexican folk tunes and snatches of tangos and sambas.
George Bulanda, The Detroit News
The best elements of musical theater and opera were on spectacular display in Michigan Opera Theater's staging of Robert Xavier Rodriguez's passionate 1991 opera Frida…Like Frida's paintings and persona, Rodriguez's opera is emphatic and bold…Emblematic of the stylistic flexibility that has earned comparisons to Kurt Weill and George Gershwin…
Jennifer Goltz, Opera News
Reviews from the productions by Long Beach Opera & Cincinnati Opera, June/July 2017: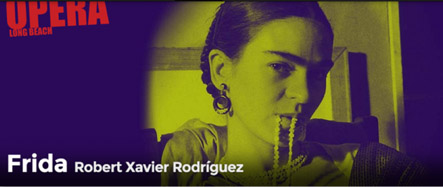 Long Beach Opera presents SoCal Premiere of Opera Frida.
The opera celebrates the renowned Mexican artist Frida Kahlo, her vivacious spirit, sexuality, fragility, and her tumultuous life with muralist Diego Rivera. Robert Xavier Rodríguez' brilliant score captures Frida with music as rich and haunting as her art.
Broadway World, Los Angeles
Death Haunts Frida Kahlo
…Rodríguez's engaging score [has] a snappy capacity to channel all manner of American music theater traditions…For its year-end classical music honors of 1991, the New York Times hailed Frida as the "Best Opera/Music Theater." By now, Frida has been staged internationally in 15 cities. Cincinnati Opera mounts another new production this week...It's all there, neatly and concisely packaged, a whirlwind tour of Kahlo's life. The musical bits fall in place easily...Catchy licks and hooks… like musical flickers… mysterious, miraculous, macabre, brilliantly colored splendor.
Mark Swed, Los Angeles Times
The life of Frida Kahlo, an opera waiting to happen.
Rodríguez' captivating score portrayed Frida with music that richly conveys her inner pain and prolific struggle to conquer death…This property has legs in a Fridamania-obsessed world.
Eric A. Gordon, People's World
Long Beach Opera Presents Robert Xavier Rodriguez's 'Frida.'
An opera as colorful as artist Frida Kahlo's life and work, Frida explores the passion and pain and beauty of an important artist. It was genius that Rodriguez chose Kahlo as a subject for his 1991 opera. Her life story sounds almost fictional, or at least as surreal as some of her art. Through Frida, we learn much about her as a woman, a lover, an artist and a Mexican…I found the opera to bridge musical theater and opera, and to do so in a convincing way...I found myself humming the final song in my car on the way home.
Julie Riggott, Culture Spot LA
Cincinnati Opera's Frida tinged with emotion, fiery spirit.
Robert Xavier Rodriguez's 1991 opera Frida is an unflinching view of the artist's lifelong torments as well as her passions… Rodriguez's musical score is as complex and richly layered as Frida's personality. It is colored with folkloric Mexican music, jazz, sophisticated modernism, sensuous atmosphere and subtle musical quotations. It's an inventive hybrid. With its Broadway-style songs, amplified singers, dialogue and monologues, this opera might be just as happy on the musical theater stage… It leaves an indelible imprint that lingers long afterward.
Janelle Gelfand, Cincinnati Enquirer
Frida at the Cincinnati Opera.
Like the lady herself, the opera is bold, colorful, and full of life and passion.
Opera Lively
Critic's Pick: Frida by Cincinnati Opera…an especially vivid and compelling work that has clearly struck a resonant note…
CityBeat
Robert Xavier Rodríguez's Frida, performed at Cincinnati Opera, presents an apt parallel to Kahlo's own art, with its difference of styles unfailingly put to dramatic use… a Mexican Kurt Weill…with its mixture of popular material (both authentic folk songs and newly-composed material), Rodríguez's own modernist style and the opera's sense of high purpose… incorporates folk elements and materials into something entirely new and original.
Joe Law, Opera News
Listen (Frida Concert Suite)


Reviews of European Productions:
Formidable [European] premiere of the musical Frida at the Vienna Schauspielhaus
The American composer, Robert X. Rodríguez has made a musical of Frida Kahlo's life and suffering, in fact a sensationally good one... extraordinarily evocative and wide-ranging worlds in sound... Boisterous Fiesta-Mexicana-strumming alternates with a brandy-soaked ballroom atmosphere; drama alternates with intimacy, poetry with bombast. It is all here and wonderful... Enormously charismatic, varied, full of nuance... one of the best things to have been seen on any Viennese stage in recent years... beautiful, poetic... Five stars deluxe.
Stefan Ender, Der Standard
A Fiesta for Frida
...This is the stuff of which legends are made...
R. Wagner, Neuen Volksblatt
In a Mexican way
...like a mariachi group for which one has mixed mescaline in the tequila, tradition and distortion meld into a harmonic connection...
Michael Krassnitzer, Die Neue Furche
...Rich musical material... colorful gestures... portray Frida's psychologically varied states... folkloric roots find a harmonious coexistence with Broadway. Occupying its own Utopian space, the music plays both to the ear as well as the soul...
Christine Dobretsberger, Wiener Zeitung
Praise for the chamber opera
Robert Rodríguez wrote an opera about the painter Frida Kahlo with impressive music and drew from Copland and Bernstein, from musicals, from Kurt Weill, from international [style] as well as Mexican folklore... It shows yet again that if someone is seriously interested in chamber operas, a repertory exists today that reaches far beyond baroque and rococo opera...Exotic flair... humor... Thank you, Señor compositor, for the beautiful music.
Derek Weber, Salzburger Nachrichten
The music clearly represents an unconventional life that couldn't have been lived more emotionally, passionately and eccentrically.
Westdeutsche Allgemeine
... elegant music...
Westfällische Nachrichten
The musicians brought the Mexican fiesta as well as the jazzy party atmosphere of New York to life... The reality [of Frida Kahlo's life] formed by pain, ambition and love is created on the stage with wit and fantasy...
Westfalenpost
...conveys sweetness without sentimentality
KölnischeRundschau
...the musical sounds comment beautifully on the action
Recklinghäuser Zeitung
Reviews of Mexico Production (100th Anniversary of Frida Kahlo's Birth):

Photos from Festival de Mayo (Guadalajara).
Left: Frida and Calaveras; Right: Full Company (Finale).
The Best Homage to Frida
...In Rodríguez's work is a richness that goes beyond adjectives…Some rejected the title "opera" to brand it as a Broadway musical…Others compared it to a Mozart singspiel...What is important is that there was not a single individual that didn't applaud Rodríguez's seductive and refined language...There are few composers with the intelligence and sense of humor to fuse new and traditional sonorities with unusual rhythms and melodies. Very few… I don't know what I enjoyed the most: the plasticity of the images,…the languid sensuality of the interludes in which piano, accordion and percussion made the atmosphere vibrate, the clever way in which her accident "...in the year 25 . . ." was recreated in corrido rhythm… or the moving final aria that made us shed tears…
Lázaro Azar, La Reforma
¡Viva la vida!
Sensational! Impacting! Magnificent! These are some of the enthusiastic words uttered by the public who attended the performance of the opera Frida last Friday at the Teatro Degollado. My mind is still full of the images and sounds of this work, which has had many successful performances in the United States and Germany since its creation in 1991. The opera is vibrant with life, expressing Frida's motto "¡Viva la vida!" Those of us who attended were privileged to see it. And who was most responsible for this work's impact?... The most important person here was the composer, Robert Rodríguez, who achieved a felicitous fusion of spoken dialogue, popular music and complex operatic music full of lyricism and passion…
Charles Nath, El Informador
The Joys and Sufferings of Frida Kahlo
…The story is told smoothly and efficiently, often with subtle humor, always with a clear focus on the internal life of the main character. Frida is, at the same time, fragile and strong, idealistic and sensual, profoundly serious and devastatingly fun-loving...
María Isabel Sánchez, Magazinemx
Ovation for the Premiere of the Opera Frida
The ovation for the Spanish premiere of the opera Frida lasted for eight minutes…The sold-out audience rose and showered the stage with red and white carnations… Many audience members participated in the spectacle by coming to the theater dressed as Frida (Kahlo) and Diego (Rivera).
Franco Daniel Gómez, El Universal
Reviews from the Florida Grand Opera production of Frida – March, 2019
More Than Eyebrows: FGO brings Frida to the stage
…What sets this contemporary opera apart is not only that it is a new and acclaimed opera, (having been first performed in 1991) or that its subject matter is a biographical account of an LGBTQ icon, but rather that its colorful depiction of Mexican culture is an unapologetic celebration of diversity and inclusion, at a time when we desperately need reminding that there is much beauty and insight to be found when we educate ourselves on another's history. Suddenly, Frida Kahlo represents so much more than a unibrow and surrealist Mexican folk art…While Frida includes more spoken text than many of the older and more traditional operas, it is Rodriguez's evocative music that is the binding, expressively bringing the fragments of plot together, often with two or more melodies entwining in a way that creates a lovely dissonance and dramatic tension on stage…
Erin Dahlgren, Outclique Magazine
FGO's 'Frida' a brilliant, energetic read on iconic Mexican artist
…The energy level soared from first note to last. The subject matter was serious and thought provoking but always entertaining and oddly optimistic…The exuberance of a Broadway musical, the gravitas of grand opera and the intimacy of chamber drama co-existed in a fantasy world that just happened to be almost entirely factual…
A special musical highlight is a quintet in which Frida and Trotsky, Diego and Mrs. Trotsky each convey their emotions over love and infidelity, while Cristina, her voice soaring above the others, utters her remorse over having been disloyal to her sister. In the tradition of great opera ensembles, Rodriguez gives each character simultaneously a credible musical language of his or her own.
Robert Croan, Palm Beach Arts Paper
Appropriately Strange Frida at FGO
Rodriguez's score was gripping…The chamber-sized orchestra, augmented by accordion, saxophone, and guitar, brought color and rhythm to the folk-inspired melodies and lent drama to the opera's darkest scenes… brought Kahlo's art to life in thoughtful and breathtaking ways…luminous and lurid score undulating as Frida bathed, naked, flanked by male and female lovers...FGO's Frida was a strange opera – fast-paced, touching, at times darkly comic, esoteric, pained, and colorful.
Carly Gordon, Schmopera
Soprano Cuervo is a powerhouse in FGO's episodic, colorful "Frida"
…Rodriguez's music is an effective combination of Mexican folk music, jazzy sounds and contemporary classical music, scored for a small orchestra that includes an accordion, guitar and saxophone. Rodriguez, who studied with Elliott Carter and Nadia Boulanger, can write a tune, and he did so with a dramatist's touch here, working through melodies that would begin simply and then turn complex and discordant as the stage action intensified.
He captured the fortitude that is one of Kahlo's defining characteristics, as she lay in bed after her accident, full of self-pity, singing doleful music that turned racy and fiery as she resolved to live. He brought an almost Wagnerian eroticism to the love scene between Kahlo and her husband, with music that ascended, broke and then ascended higher…
David Fleshler, South Florida Classical Review
FGO's Vibrant Surreal Frida Is Not Your Everyday Grand Opera
…This biography of the iconic Mexican painter Frida Kahlo is, indeed, an opera, but it encompasses, among other things, the sounds and tropes of musical theater. The music's base is contemporary opera, but it includes riffs of mariachi horns, Latin percussive rhythms, strummed Mexican folk music, 1930s Manhattan jazz and another half-dozen genres. There is swirling Mexican folk dancing and an expressionistic ballet…the crowd was noticeably younger, more diverse and less gown-and-tux…it was the audience that FGO has been trying to attract.
Bill Hirschman, Florida Theater On Stage
Program Note:
Rodríguez describes Frida as being "in the Gershwin, Sondheim, Kurt Weill tradition of dissolving the barriers and extending the common ground between opera and musical theater. In keeping with the Mexican setting of Frida, he has created a unique musical idiom. The score calls for mariachi-style orchestration (with prominent parts for accordion, guitar, violin and trumpet), in which authentic Mexican folk songs and dances are interwoven with the composer's own "imaginary folk music," tangos and colorations of zarzuela, ragtime, vaudeville and 1930's jazz – all fused with Rodríguez' characteristic "richly lyrical atonality" (Musical America) in a style "Romantically dramatic" (The Washington Post) and full of "the composer's all-encompassing sense of humor" (The Los Angeles Times).
Among the "stolen" musical fragments developed in Frida (like Stravinsky, Rodríguez says "I never borrow; I steal.") are such strange musical bedfellows as two traditional Mexican piñata songs ("Horo y fuego" and "Al quebrar la piñata"), two narrative ballads ("La Maguinita" and "Jesusita"), the Communist anthem ("L'Internationale"), Tchaikovsky's Fourth Symphony, and Wagner's Tristan and Isolde. And "Spanish speakers might also listen for the rhythm of a familiar Mexican curse growling in the trombone as Lupe (Diego's former wife) insults Frida and Diego at their wedding.
The orchestra continues its ironic commentary throughout the work. Two examples: as Frida and Diego quarrel about their mutual infidelities, the brass offer a snarling version of the tender Act I love music, "Niña de mi corazon" (Child of my heart); and as Frida's death figures (calaveras) recreate her self-portrait, as the wounded "Little Deer," in an affecting ballet sequence, Frida is stabbed, both physically (by the arrow) and musically (by piercing orchestral repetitions of Diego's demand for a divorce, "You don't need me anymore").
Deeper musical characterization is achieved through the extensive use of vocal ensembles. Rodríguez says, "You learn much more about people by watching them not alone, but in conflict with others. Frida and Diego have two powerful love scenes, one at the beginning and one at the end, with one fight after another in between. It's that fascinating and unpredictable through-line of their relationship that drives the action." The demanding role of Frida requires not only extensive monologues, both spoken and sung, but also duets, trios, quartets, a quintet, sextet and several larger ensembles, working up to an intricate nine-part "layer-cake samba finale." In a musical metaphor for Frida's unique persona, her vocal line is scored with its own characteristic rhythms: often in three-quarter time while the orchestra or the rest of the cast is in duple meter. As Rodríguez observes, "Frida sings as she lived – against the tide from the very first note."