Concert Dramatization of the play by William Shakespeare
Text Adapted by Wes Sanders and the Composer
Duration: 34 minutes
Actors (or Narrator) and Puppets (optional)
3(3pic)3(ca)3(bcl)3(cbn)/4(conch shells ad lib)331/timp.3perc/hp.pf(hpd)/str
Piano reduction available
Commissioned by the Boston Symphony Orchestra for the
100th anniversary of Symphony Hall
Premiere Performance: April 4, 2001; Boston Symphony Orchestra;
Keith Lockhart, Conductor;
The Underground Railway Theater
Prospero and Caliban; Underground Railway Theater
Designed by David Fichter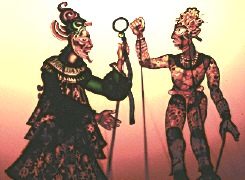 Review:
What interested Rodríguez in Shakespeare's play was the clash between Old and New World cultures. Thus, the Europeans are characterized and attended by European music, some of it derived from William Byrd's pavane The Earle of Salisbury. Ariel and Caliban are represented by music derived from native south American traditions, with an emphasis on percussion and pentatonic scales.
Rodríguez is a significant composer who has contributed some exciting works to the repertoire… He has written the thirty-minute score with skill and imagination. The music is complicated and colorful, but it also provides helpful signposts for young audiences, assigning instrumental colors to characters, the way Prokofiev's Peter and the Wolf did. Prospero is associated with the cello, his magic with the harp, Miranda with the violin, Caliban with the timpani, Ariel with the flute and piccolo.
Lockhart and the Boston Symphony Orchestra did their jobs quite handsomely, and the Underground Railway Theater's contribution was superb. Shadow puppetry told the story with amazing technological sophistication, elaborate movement and breathtaking interplay of puppets, lights and props. The puppets were charming – and meaningful. Most of them arrived in iridescent, stained-glass colors; some episodes were in black and white, and this became thematically significant. The text was mostly an extended monologue for Prospero (Wes Sanders), with feeding lines from the others.
Richard Dyer, The Boston Globe
Program Note:
The music for The Tempest emphasizes the cultural clash between the "Old World" of Prospero and the Europeans and the "New World" of Ariel and Caliban, as Shakespeare would have perceived it in exhibitions from the Virginia Company in 1613. The score includes recorded sounds of Mexican birds, high instrumental imitations of Mexican bird calls (particularly in the depiction of Ariel) and Andean folk melodies as well as an Elizabethan quotation, from William Byrd's Earle of Salisbury Pavane. The orchestration reinforces the story's cultural dichotomy with exotic non-Western percussion sounds (marimba, gourds, rattles, etc.) merging with the European harpsichord and traditional orchestral forces. The story's magical framework is represented musically by sweeping harp glissandos and by colorful orchestral splashes. The music is infused with lyrical atonality in a romantically dramatic style.
In the original production, three actor-puppeteers provided voices and visual images. One actor played Prospero, one actor played Miranda and one actor played Caliban, Ferdinand and Alonso.The part of Ariel was represented not by an actor, but by the piccolo(s) accompanying dancing images of light. The production, designed by David Fichter, had a pre-Columbian Latin-American setting.